Enjoy an unforgettable vacation with us!
For us, Luxury is to propose a trip in which you experiment our way of living and feeling, so you discover the unknown from the most simple things but the best, the authentic. That is the real luxury in life and the philosophy we employ to create that Dreamed Travel for You.
We will make you to feel unexpected and fortunate moments, surprises full of creativity that will remain as long lasting memories and you will always talk about…
Talk to Us: +39 3337327142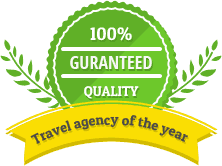 We are the Best Travel Agency since 2012
Fly2Europe Travel has been taking care of your unforgettable moments for almost 10 years, in recent years we have taken care of our customers by creating personalized holidays for them and suitable for every need.
Thanks to all of you for making this possible, our staf is always at your service for assistance at any time of your holiday by providing you with all the necessary information!